Good Morning and Happy Monday.
We've got a busy next couple of weeks. I'm headed out to the SNAP conference on Wednesday till Saturday and then adding on a family vacation the following week. The week after that, we are FINALLY having the new floors installed, and so, fair warning that as much as I'm going to by very best at keeping caught up on all the projects we've been working on, there may be a few days of down time on the blog. Make sure you're following along on Instagram to see all the fun I'm having at the conference as well as our family vacation.
For those that celebrate Easter, did you have the most magnificent day?
We most certainly did. We had a very early morning as DNH Girl came in right around 5 am, saying she was having a hard time sleeping. She climbed into our bed and I dozed off again only to be awaken by a screech at about 6.
"Wake up Mommy! Wake up Daddy! There is something incredible in the living room. I think the Easter Bunny came!" Although groggy, both DNH Dad and I roll out of bed and follow the giddy little girl into the living room where she's giggling and talking a mile per minute. It doesn't take long for little brother to catch on to the excitement and then he's up and well, the house is buzzing at about 6:15.
There was tearing into the baskets full of stickers and wands (thank you Target dollar bin). I found the best shirt, thanks to my bestie for letting me know that Target had a batman shirt with a detachable cape. UMMM, Ahhh-mazing!
Then it was out front where they happily ran around searching and finding the little treasures the Easter Bunny left for them. This was the first year DNH Boy knew what he was doing and was excited to find eggs.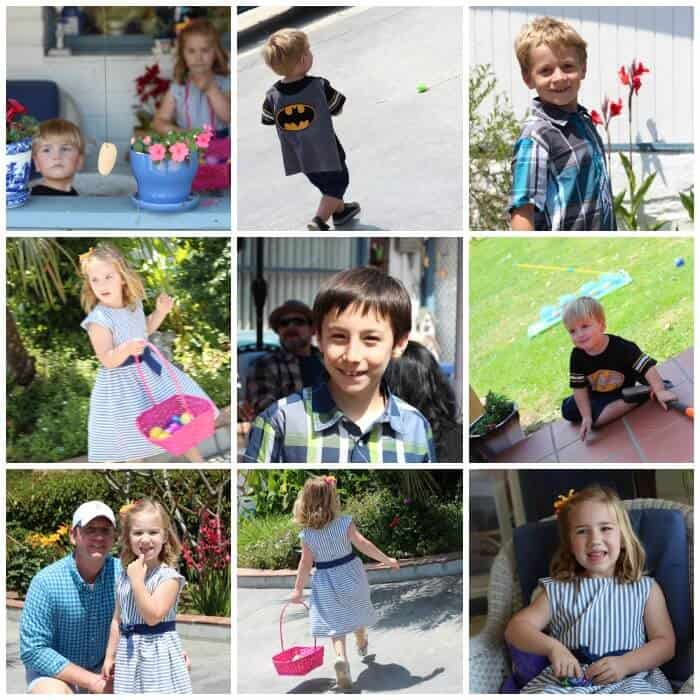 Later that day it was over for our traditional Easter Late Lunch at my parents house (DNH DIY DAD) where we have both the children's egg hunt in the front yard filled with candy and prizes and then an adult egg hunt in the back yard where were the parents search high and low for lottery ticket filled eggs. WOOH! Seriously, how cute are my nephews?
The rest of the day is filled with family games and just a whole lot of fun. He has risen and we feel very blessed that he did. We hope your day was as blessed as ours.