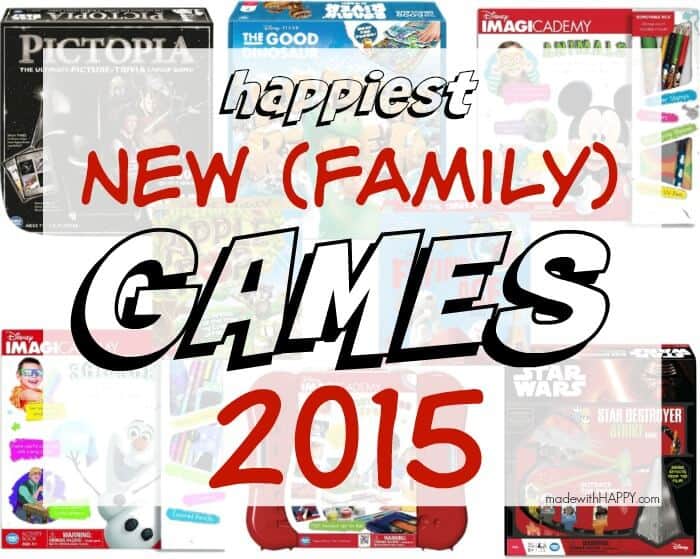 One of the HAPPIEST things we do as a family each week is to play games together. Shut down outside distractions and as a family sit down and play board games. Game night, game afternoon, game morning... we're not picky. We definitely love ourselves playing games. For reference, we have a 4 year old and almost 7 year old at our house and so the games we are sharing are for those families with younger kids. We are really excited to share with you some of our favorite new games for 2015.

This is a fun one. Your younger kids are going to love this game. It teaches them hand-eye coordination and pattern recognition. Each game doesn't take that long to play and so if your family is anything like mine, then you'll be playing this a few times each night. Fun for the whole family.

Who's seen The Good Dinosaur Movie? Its been a hit around our house especially for our 4 year old dino loving fella. This game is fun family games and is great because it teaches the kids to play as a team and even a bit of planning ahead. Its takes up some space, but just as fun to play on the floor.

Another great movie this year. This is a fun game that uses your matching skills with a bit of a timer element. My kids adore all matching games and this game is no different. We all enjoyed sharing our some of our favorite Charlie Brown moments and different characters. This is fun and is another game that doesn't take too long before you have a winner.
Disney Imagicademy Storymation Studio Stop Motion Movie Kit
Okay you guys. I know I talk about no electronics and especially during game time, but this is just so cool. Plus they aren't really on the electronic in the way they are staring at a screen, but rather they are using it to film their stories, so I give it a pass. The Imagicademy Storymation is a way for your kids to create their own movies using some of their favorite characters and teaches them about stop motion movies and that there are so many different possibilities. SO MUCH FUN!!!!
Disney Imagicademy Animals Activity Book
Find description down below.
Disney Imagicademy Science Activity Book
Both Activity Books are great. Each book comes with a pencil pouch attached to the beginning of the activity book to hold all the stickers, pencils, stamps and goodies making them perfect for travel. The kids adore the Disney characters and learning and working through their activity with mazes and word searches. Its a high quality book and has hours and hours worth of activities for the kids.
Star Wars Star Destroyer Strike Game
I don't know about you, but Star Wars is always a hit, especially with the new movie coming out next week. This game is a lot of fun allowing the kids to understand positive and negative moves for themselves and others. There is a fun aspect to the game where the Star Destroyer shoots a laser beam. With the included mirror, my inner physics geek came out showing and teaching them about reflection of light.
Star Wars Pictopia Trivia Game
I have to be honest with you on this one. While the kids certainly enjoy Star Wars, they were definitely too young and unknowing of most everything in this game. It is definitely geared more towards those Star Wars enthusiast that can tell the difference between characters, space ships and such. The hubs and I enjoyed reading through the questions and playing amongst ourselves, our kids were limited in their knowledge. Otherwise, the game is great fun and really tests your Star Wars knowledge.
We are so excited to share with you our pics for HAPPIEST New Games for 2015 and can't wait to hear about which ones you'll be buying or receiving this holiday season.
Enjoy!