Hosting a HAPPY Summer Celebration is as easy as a store bought Jon Donaire® Ice Cream cake and pool floatie!
Summer is here and I don't know about you, but I'm loving every moment. Lazy mornings, beach days, and all things ice cream!
Summer happens to be my favorite time of year. Yes, my birthday is in the Summer. Yes, National Ice Cream Month is in the Summer. Yes, I can float on a gigantic flamingo floaty EVERY.SINGLE.DAY in the Summer, but truthfully, I think it's the opportunity to spend time with family and friends more as there aren't a thousand and one obligations. Which makes hosting the HAPPIEST Summer celebration that much easier.
There are 5 key things to remember when hosting a HAPPY Summer celebration.
Simple
Keep it simple. You are most likely celebrating outdoors, and so its perfectly acceptable to use paper plates and plastic utensils. Easy cleanup and no worries about broken glass.
Water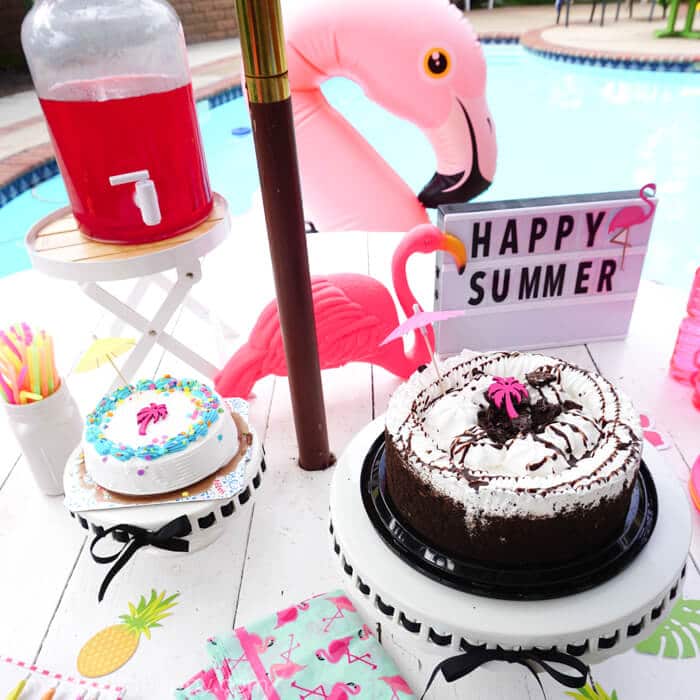 Summer is hot and making sure there is some form of water fun near your celebration makes it super HAPPY. So whether its by the pool, beach, lake or simply turning on the sprinklers. I dare you not SMILE from ear to ear running through the sprinklers. Its pretty much impossible. 🙂
Desserts
Summer is not summer unless you have some seriously HAPPY desserts.
What I love about I Love Ice Cream Cakes is that they are as simple as heading to the store and picking one up. So not only do you not have to make them, they are ICE CREAM and CAKE and DELICIOUS. They have a ton of different flavors like the Jon Donaire® cookies and cream, carmel turtle, and s'mores and more. The Carvel® cakes are great too for birthday and other celebrations as they come blank in the middle allowing you to add your own touches to make your celebration your own.
Drinks
We all know that when the temperature rises, your body needs more fluids to stay hydrated. Make sure you provide your guest with ample amounts of drink choices. I like to have a one tub full of waters, kids drinks, and soda. Then another with some adult beverages (beer, wine and maybe a fruity cocktail) . While its fun to be next to water, its also important to be drinking water or any other HAPPY beverages :).
Music
Summer celebrations are not complete unless there is some fun music playing. There are lots of great playlist out there, and nothing screams summer like some old fashion toe tapping summer mix.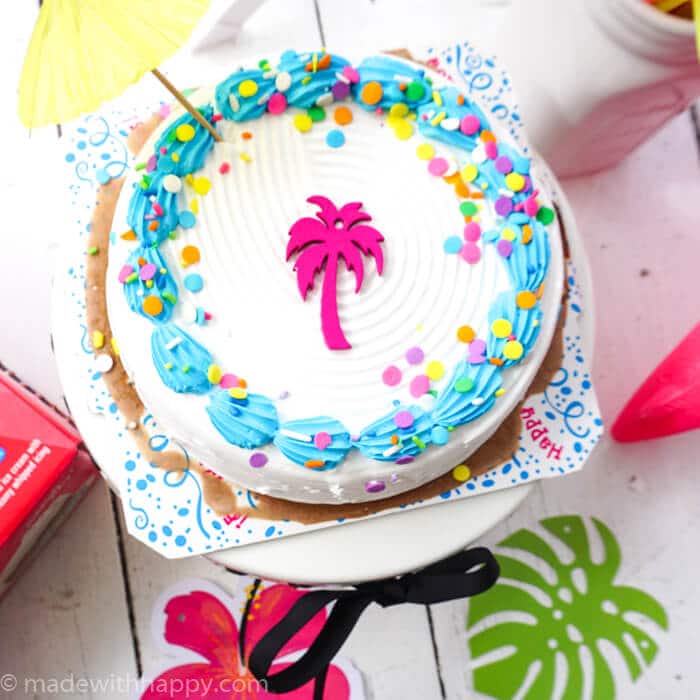 Happy Summer!