Everyone know about San Diego's World Famous Zoo, but did you know there is also a world renowned animal park in San Diego called the San Diego Zoo Safari Park? For the first 25 years of my life it was called the Wild Animal Park, so you will still hear it called that by many folks, but regardless, it definitely awesome in its own right.
I like to think of it as the Zoo's more spread out, animals in their own habitat, more "safari" like, little brother. Its located in North San Diego, and is more than double the size (acre wise) than that of the zoo.
Each year they have for just a few weeks the most incredible exhibit, the butterfly exhibit called
Butterfly Jungle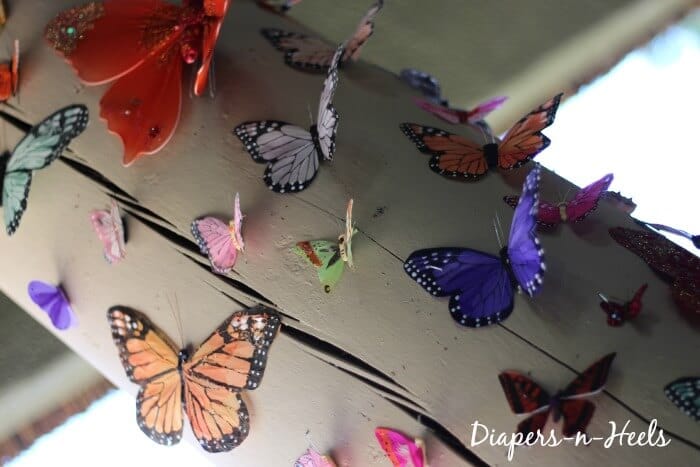 This past week it opened. Seeing as we LOVE butterflies, we were excited to get over to check it out.

There were beautiful. Lots of different colors. My favorite were the big blue ones like this.
Wouldn't you know it, DNH Girl waited patiently and so wanted the butterflies to land on her. Guess who had them all over them??
Yep... Me!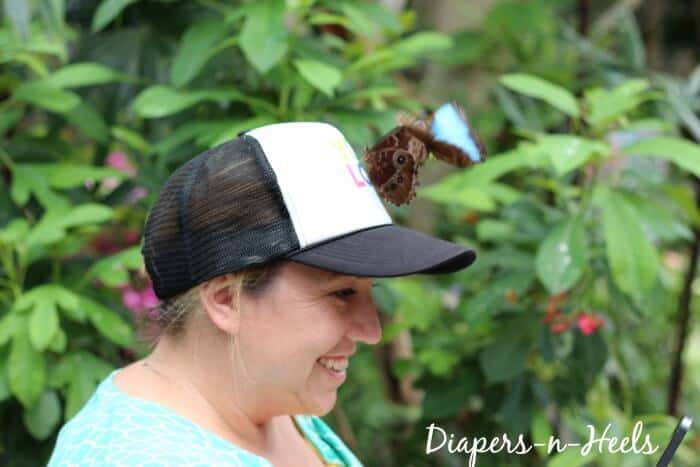 Oh, another one.

Oh, did I mention they were all over me? Even getting a little chest action 🙂 (Look how cute DNH Girl is in the back ground looking at her butterfly chart pointing out all the different ones she was seeing.)
There were a ton of butterflies flying around. It wasn't as humid as the butterflies we saw in Scottsdale, which was nice. I'm not going to lie, I was thankful that they didn't land on my face.
Patience paid off, because low and behold a couple beauties landed on DNH Girl's butterly guide and she was so happy. Umm, even if she doesn't so much look like it 🙂
The exhibit is only at the park till April 27, so you will definitely want get out there and check it out if you can.
The family had a great time in all the other parts of the park including feeding the Lorikeets.
So much fun feeding them nectar and getting to interact with them.
Of course there are a ton of other animals to see, feed, interact with, that you could be there for a few days to see them all. Such a great time to visit the park while the weather isn't too hot or too cold. We love the Wild Animal Park!