This summer, I've rediscovered my love for nature and the outdoors. My family and I have visited two state parks about an hour south of where we live--Starved Rock and Matthiessen State Park. We walk anywhere from 4 miles to 9 miles, depending on the day and the route we want to take.
When going for a day hike, it is extremely important to go prepared. Whether you plan to be out all day or for a few hours, you should always have some key essentials with you. I created a list of what I believe are the most important items to bring, as well as some lunch and snack ideas. I also shared some pictures from a couple of different hikes (one from each park).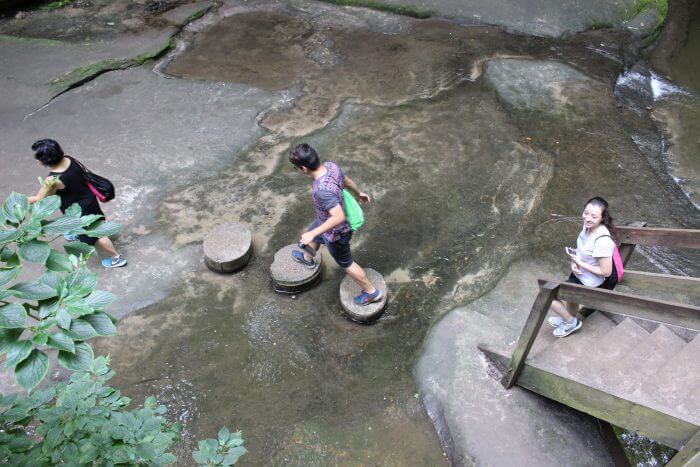 (the three images above are at Matthiessen)
Below I created a small list of things that I think you absolutely need when you plan to spend the day hiking. I also included some foods that should definitely be in your lunch bag or snack pack.
Key Essentials for a Day Hike:
WATER: don't underestimate how much water you might need. Always bring more than you think you should.
Map: make sure you get a map of whatever land you'll be hiking on. There aren't always maps along the way.
Charged phone: this is super important and sometimes forgotten about but definitely make sure that your phone is 100% charged and ready to go or you could even bring a portable charger along.
Sun screen
Bug spray
Band-aids/first aid: If you're only hiking for a few hours, I wouldn't say it's necessary to bring an entire first aid kit but definitely keep some band-aids on hand just in case.
Extra socks: You will come across muddy areas and you might even want to wade into the water near a waterfall or creek. Back up socks will make the remainder of the hike more comfortable.
Camera!
Rain jacket: just in case.
Toilet paper
Backpack (duh)
Tennis shoes: I recommend shoes or boots with ankle support.
Lunch/Snacks should include proteins, carbs, and fats. Here are some options:
sliced turkey
chicken breast
hard boiled eggs
egg salad
string cheese
pumpkin seeds
peanut butter
oats
bread
crackers
nuts
dark chocolate
avocado
condiments such as: butter, mayonnaise, cream cheese
fruit
With these, my favorite lunch items include:
sliced turkey sandwich on wheat bread or a peanut butter sandwich on wheat bread
two hard boiled eggs
string cheese
dark chocolate and peanut butter protein bar
bagel with cream cheese
pumpkin seeds as a snack
You can customize it however you'd like but it's important to make sure that you have a healthy lunch that's going to keep you full and energized. I would also recommend bringing snacks, depending on how long you plan to be out. And don't forget to bring lots and lots of water!!
Here's some pictures from Starved Rock...
Some more from beautiful Matthiessen...
HAPPY HIKING!!