This post is sponsored by Philadelphia Cream Cheese.
With Easter just a few weeks away, we are in full planning mode gearing up for the famous Made with HAPPY Egg-stravaganza of a day. Okay, maybe it's just famous to our family, but fun nonetheless. Our day is full of egg hunts, great food, fun games and a whole lot of family time. All HAPPY!
This year I am in charge of dessert and wanted to come up with something that was delicious and festive. Have you all heard of an icebox cake? They were popular back in the '50s. Traditionally they are made with cream and wafers and require NO BAKING. Can we get a wahoo for no baking? We decided to put a Made with HAPPY twist on the icebox cake and use spring colored wafers and use Philadelphia Cream Cheese to make the cream extra yummy. Here's how I did it:
Ingredients:
3 cups heavy cream
½ cup sugar
12 oz. Philadelphia Cream Cheese softened (1 ½ blocks)
3 different colored wafer packages
Directions:
In the bowl of an electric mixer fitted with the whisk attachment, combine the heavy cream, cream cheese and sugar. Mix on low speed to combine and then slowly raise the speed, until it forms soft peaks. Approximately 3-4 minutes.

Using a springform pan (cheesecake pan), line the bottom covering as much as possible with your first layer of wafers.
Divide the cream mixture into approximately thirds. Spread a generous amount over the wafers.
Add the second layer of wafers and then the second third of the cream mixture.
Finish the layering with the third layer of wafers and then top the cake with the remainder of the cream mixture. Cover in plastic wrap, making sure it is touching the cream, then place in the freezer for two hours. From there, move the cake into the refrigerator over night. Then you are ready to serve.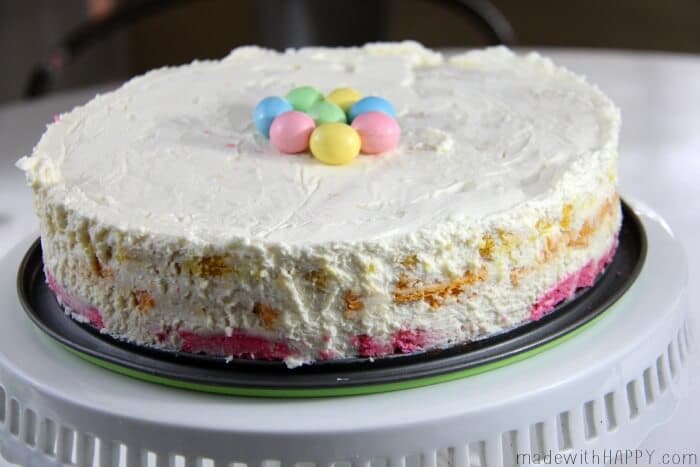 We added a few chocolate eggs on the top for decoration.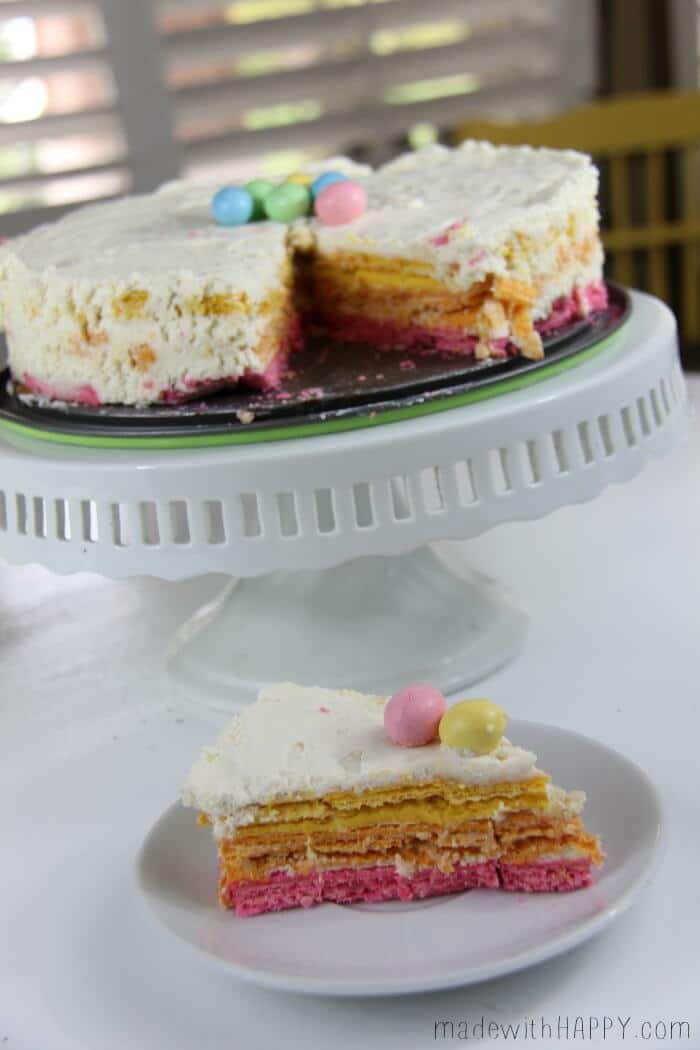 The cream soaks into the wafers making them soft and fluffy. Such a fun cake and easy for those of us who are baking challenged.
Thank you to Philadelphia Cream Cheese for allowing me to partner with them to come up with a delicious recipe for the Easter season! Do you have any favorite Easter recipes using Philadelphia Cream Cheese? I'd love to hear your favorites! **Note: I came up with this recipe and it is not an original Philadelphia Cream Cheese recipe
Other Easter Dessert Ideas You Might Enjoy
Like this recipe? Pin it!