Cinco De Mayo celebration done right with a fabulous margarita party
Those that know us, know that we don't necessarily need an occasion to have a great party, but I can't think of a better one than Cinco De Mayo to throw an incredible Mexican fiesta.
What I love about Mexican fiestas, aside from the food and drinks (OF COURSE) is that it's really all about the fun of family and friends. The colors, the casual atmosphere, and the food and drinks are what make this one of my all-time favorite parties!!!
For Cinco de Mayo this year, I'm sharing with you all how to throw the most awesome margarita party on the block.
It is my belief that is throwing fun HAPPY parties, doesn't have to break the bank. In fact, fiestas are even more so because of the mix and match of colors and patterns.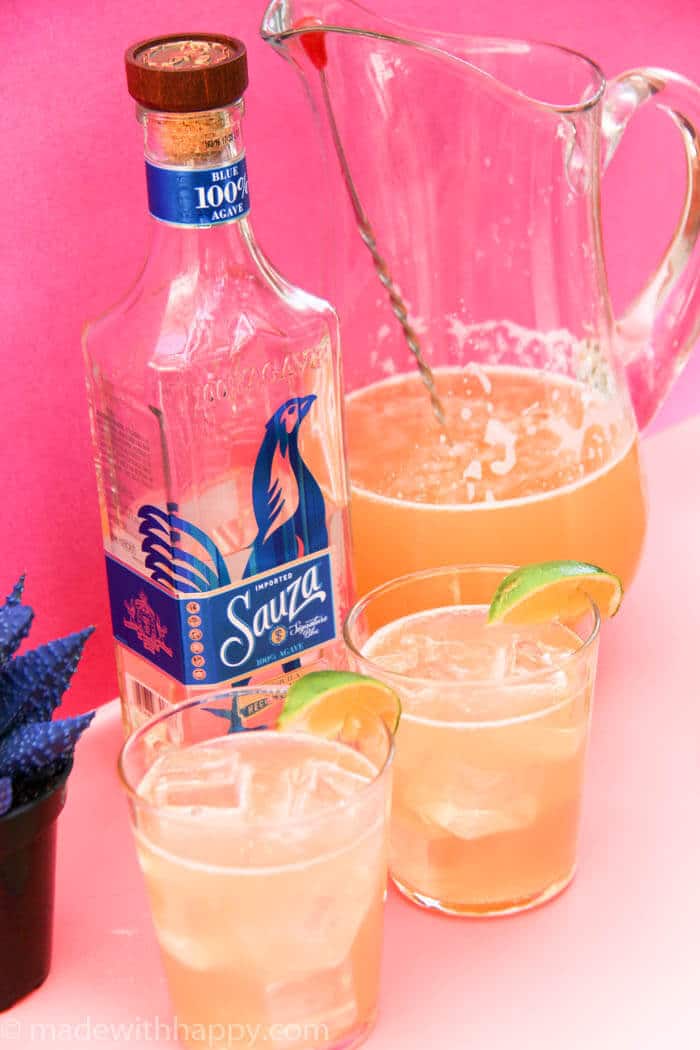 Layering colors and patterns make for a brighter HAPPY celebration. Pull out those leftover paper plates from the last BBQ or party, add in a few items you picked up at your local dollar store or party store, and your guest will be in awe.
What makes a great margarita party is tequila. I'm a sucker for Sauza® Signature Blue Silver Tequila. It's made with 100 percent blue weber agave, making it awesome for creating pitcher-style margaritas as well as drinking on its own.
Bringing friends together to celebrate is always fun but also brings together a mix of different taste buds. I like to have a few different flavors of margaritas available for my guests. My three favorites are Mango, Strawberry, and Original.
The original recipe that is the crowd favorite at our house is our 3 ingredient margaritas.
Serves 9

Simply mix together a can of frozen limeade, and a bottle of your favorite Mexican beer and fill the empty limeade can with your Sauza® Signature Blue Silver Tequila, mix and serve over ice.
These tend to go the fastest, so we make sure to have at least a pitcher or two readies at a moment's notice.
One of my new favorite decoration ideas, these mini margarita glasses, were found recently when cruising through my local party supply store. They really are my new favs.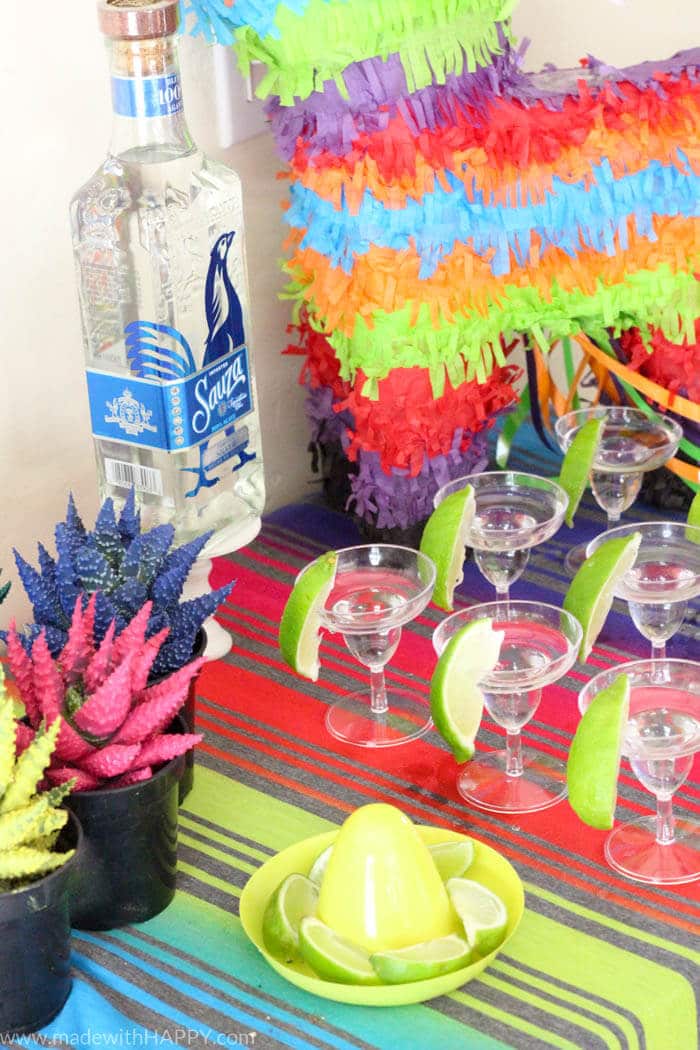 They make it easy for individual-size salsa and chips, serving appetizers as well as some shots to toast. If you aren't able to find these, using plastic shot glasses, a small mason jar, or laying your appetizers out on platters is just as simple.

I personally have a love affair with piñatas. They are inexpensive to buy, relatively easy to make if you are crafty, the kids adore them, and more importantly add a ton of color and zest to any fiesta. I highly recommend grabbing a few for your Cinco de Mayo party.
If you are looking for what to serve to eat. You can never go wrong with tacos, kabobs, or Mexican style salad. Keep it casual and delicious and you will have the happiest guest.
For dessert, you can go all out and make churro ice cream tacos or be easy on yourself and buy some colorful cupcakes and throw in a few fiesta-themed cupcake toppers. When in doubt go easy on yourself.
The most important thing about throwing a Cinco de Mayo party is to have fun, have a delicious pitcher of margarita on hand always and catch up with friends. We sure do hope you have a fabulous Cinco de Mayo Party!
What are you planning on doing this Cinco de Mayo?
HAPPY CINCO DE MAYO!
Drink Smart®
Sauza® Blue Tequila, 40% alc./vol. ©2017 Sauza Tequila Import Company, Chicago, IL
Sauza® is a trademark of Jim Beam Brands Co. ("Beam") and is used with permission. The information, comments, and ideas expressed in this post do not necessarily reflect the views or opinions of Beam, its affiliated companies or any of their directors or employees.