Celebrate your favorite Disney loving birthday with this super fun Minnie Mouse Bowtique Party. We are sharing all the fun and party supplies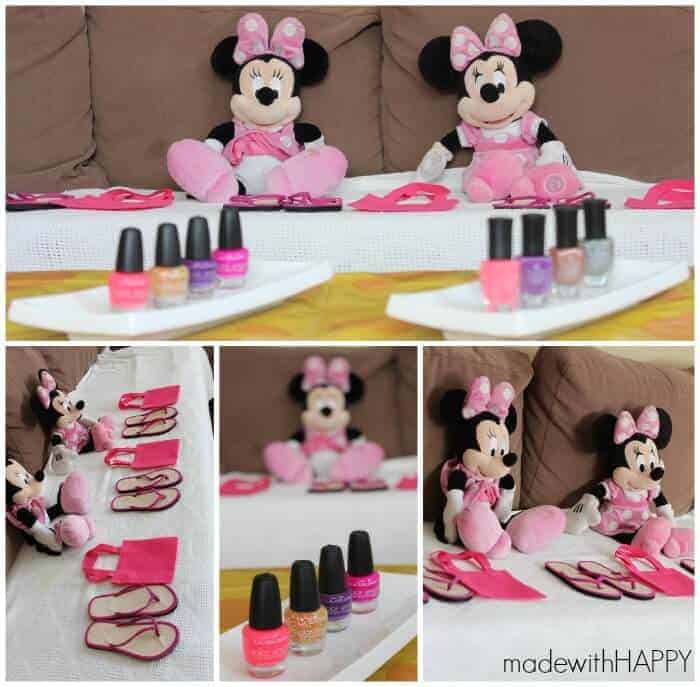 This Minnie Mouse Bowtique Party is one of our our all time favorite parties!
Girl parties are our absolute favorite!. I heart a girl party like nobody's business. You can only imagine the excitement when MWH Girl asked if she could have a sleepover birthday party.
The party wheel in my head immediately when spinning on overdrive thinking of a theme party. We started thinking about our favorite Disney Mickey Mouse Clubhouse characters, she thought of Minnie Mouse (of course), and within a few minutes of brainstorming she and I decided her sleepover would be a spa night with as a Minnie Mouse themed Bowtique Slumber Party.
Minnie Mouse Birthday Party
It was off to Walmart, where down the bedding aisle we we found all kinds of cute Minnie Mouse bedding.
Party Decorations
In terms of party decorations, we found some really fun happy birthday banners, table decorating, and party favors feature Minnie Mouse. Look at all this cute Minnie party supplies from American Greet Supplies on the party aisle.
The night was setting up to be all kinds of fun!
Minnie Mouse Theme
As soon as we got home and were able to do a little washing, the bed was ready for sleepover fun. It was so much fun setting up for this spa night. We split the house into three different stations.
The first was a food station for cookies and milk and late night sweets for the girls.
We had a Minie Mouse bow tique station with all kinds of hair fun. Curlers, headbands, pony-tail holders, Minnie bows, and bobby pins.
The third station was the nail painting station where we provided the girls each with a pink pair of flip flops and bag for their goodie.
Once MWH Girl's besties came over the real fun had begun. They ran straight to the bed where we heard all kinds of screeches and giggles.
After dinner (pizza), the perfect sleepover food, it was time for the pampering to begin.
We added curlers, we added ponies, we added bows, and braids. You name it, we tried it. At this station we gave each of the girls pink beaded necklaces and bracelets as well, so they were looking all kinds of fancy when we were done with the hair station.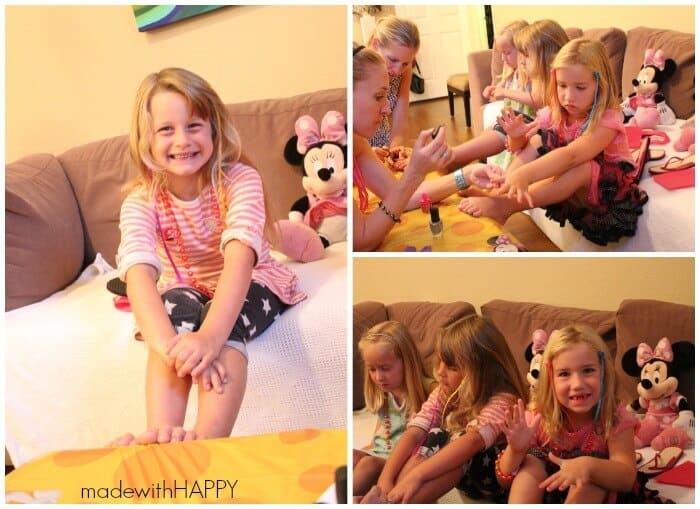 Party Activities
Then it was onto the mani/pedi time. I set out a number of different nail polishes hues in pinks, purples and glitters and they were a hit. I'm pretty sure all 8 different colors were used between fingers and toes. We had patterns and flowers and all kinds of HAPPY.
The night was just a whole lot of fun and whole lot of HAPPY, which is what's important.
After all the spa fun they were back into the room where all you can hear are giggles and laughs.
Thank you #CollectiveBias and #JuniorCelebrates for helping to turn this sleepover into the most fun Minnie's Bowtique Slumber Party in all the land!
We hope you enjoy this party as much as we enjoy putting it together.
Other Party DIYs You Will Love
CONNECT WITH MADE WITH HAPPY!
Be sure to follow me on social media, so you never miss a post!
Facebook | Twitter | Youtube | Pinterest | Instagram
Looking for crafts to keep your child busy? Sign up for my 5 Ridiculous HAPPY Activities in under 30 minutes for your kids delivered directly to your inbox!
Find and shop my favorite products in my Amazon storefront here!
MINNIE MOUSE BOWTIQUE PARTY
PIN IT TO YOUR FAVORITE BOARD ON PINTEREST!
FOLLOW MADE WITH HAPPY ON PINTEREST FOR ALL THINGS HAPPY!