I was recently thinking about Christmas and looking for something simple and elegant for the Christmas table. There are so many great tablescapes out there.
This year we are on a pretty tight budget, and so it was important to keep it inexpensive. While combing the dollar store, I happened across this holly.
It of course would look great just in a vase and paired with a few candles.
Some that have been following my story, know that my Mom moved out here earlier this year. She moved into a great house, but when were were unpacking her boxes we came across her 9-foot fake Christmas tree which is far too big for her new place. Oh shoot, guess we'll have to take it off your hands Mom (as I say with a very large grin). We are a real tree family and each year go and pick out our family tree and have the best place for it right as you walk into the house, but there also happens to be a perfect place in the kitchen for our newest edition. I thought it would be fun to decorate it in a theme if you will. Of course time flew by and rather than a "theme" we decided an all gold tree would look great.
I'm kind of obsessed with gold this year. Why I bring this up is to make sure you realize you're not only stuck with the red holly as you purchased it. I decided that it would look great as a gold center piece and so busting out my handy mini-gold spray paint from Krylon that you all know I'm obsessed with.
I sprayed the holly gold. Then in order to add a little more glitz why not add a little glitter to the vase.
Adding glitter to any glass is so easy. Using some glue and glitter. I marked off a few lines, but you could do some snowflake shapes or cover the whole bottom of the vase. Let it dry and then remove the tape and you have yourself a jazzed up vase.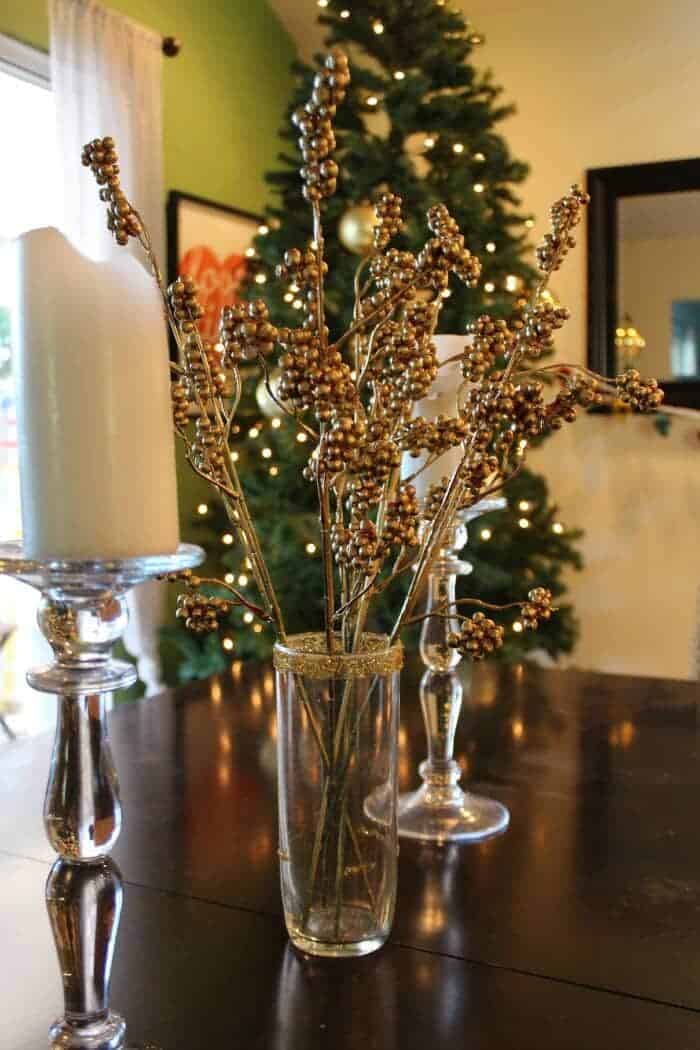 You can even do half gold and half red if that was in your color scheme.
Viola, you have yourself a elegant yet Simple Christmas Table Decor for just a few dollars.