A few months back, I was invited by the Disney Social Media Moms to a conference at Disney World. The whole family was beyond excited to experience Disney World for the first time. Both the husband and I had been to Disney World so many moons ago that it felt like the first time for all of us!
I am excited to share our adventure with you all! I have been getting lots of questions for those of you that were following along on twitter and Instagram about what we liked, how it was with the kids and such and so I'm hoping to cover as many questions throughout the recap of our adventure.
For the first part of our adventure, I thought I'd share with you about the parks and getting around as a family. For the second part I thought I'd share with you where we stayed and the conference itself to give you a little more insight into the whole adventure. And with out further ado, away we go!
At Walt Disney World, there are Four Theme Parks and Two Water Parks.
Theme Parks
Magic Kingdom
Epcot
Disney's Hollywood Studios
Disney's Animal Kingdom
Water Parks
Disney's Typhoon Lagoon
Disney's Blizzard Beach
We didn't make it to the Water Parks this trip, but had loads of HAPPY at each of the four theme parks.
I am not sure if you all know this, but all of Disney World is run off magic bands.
These little beauties go wherever you go throughout the park and are not only your entrance to the parks, they can buy you anything you need while in the parks, they are your FAST PASSES, as well as the key to your room. They are quite magical and I could probably talk for days about these little guys. Such a brilliant idea, and I wish everyday was as easy as wearing one of these guys.
Magic Kingdom
This was the kids absolute favorite park. It is the park that is very similar to Disneyland with many similar rides including its a small world, tea cups and space mountain.
We made our way around the park and loved how many rides Made with HAPPY Boy was able to ride. Really makes for a fun day when the littles aren't as restricted.
They both were even able to ride the 7 Dwarfs ride which turned out to be their absolute favorite. We must have rode that ride 10 times over the course of our 5 days stay.
So much to do and so many great rides. For us personally, it was worth coming back throughout the stay to make sure we were able to see as much as we could.
Epcot
Without initially realizing this, our hotel was next to Epcot. This is a park like no other. It is often refereed to as the modern day World's Fair. There are 11 countries represented as well as Future World which showcases science and technology. Each country is very well constructed to include the similar architecture, landscapes, cuisines and and shops.
While the adults loved, loved, loved this park, for our family, the kids weren't as super pumped about Epcot with more to see then to do.
Disney's Hollywood Studios
Our adventure to Disney's Hollywood Studios started out on the water taxi. It was just a hop, skip and a jump over to the park from our hotel. I have to admit that on the day we went to this park, it was the hottest day of our trip, so the kids were starting to wilt after a few hours in the heat. This is a fun park filled with some fun attractions for the kids. There were some large roller coasters rides including the The Twilight Zone's Tower of Terror. This is more for the older kids and so we made our way towards Pixar Place and Streets of America. One of our favorites was the Toy Story Ride.
From there we made our way over to the Frozen Singalong and meetup with Monster's Inc.
I can't even handle that smile. Pure joy!!! There are lots more shows at Hollywood Studios. I suggest that you either look up times and plan your day before you come or right when you get there. We didn't plan too great and missed a few of the shows that I know the kids would have LOVED!
Disney's Animal Kingdom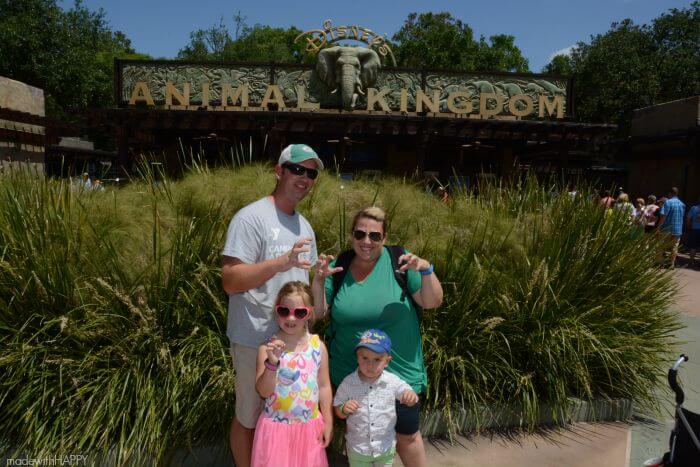 Coming from San Diego and having the World's Famous Zoo, we were all a little hesitant that we were going to see anything new. Can I tell you, we were all very very wrong! We all loved the Animal Kingdom. They have brought in culture along with animals and fun.

They have a safari that is magical and gets you so close to the animals, we couldn't believe it. Such a fun day filled with lots of great shows and rides.

I absolutely loved how they integrated the Asian cultures into different areas of the park.


It also happened to be one of the hottest days of our trip and we were all excited to see some fun cool down options along our path. Made with HAPPY Boy was extremely excited and jumped right in!

Plus we had our first Mickey pretzel and well, they are unbelievably good, and so we were happy we finally tried one!
Our trip was unbelievable and so made with HAPPY, that I could write on and on about it. If you have any questions about the parks or are looking for some insider tips, please let me know and I am happy to let you know. Look for the next post sharing about the Social Media Moms Conference as well as where we stayed.