Learn how to make an easy 3D Paper Rainbow Craft in this post. Kids can create a three-dimensional rainbow they can play with using paper!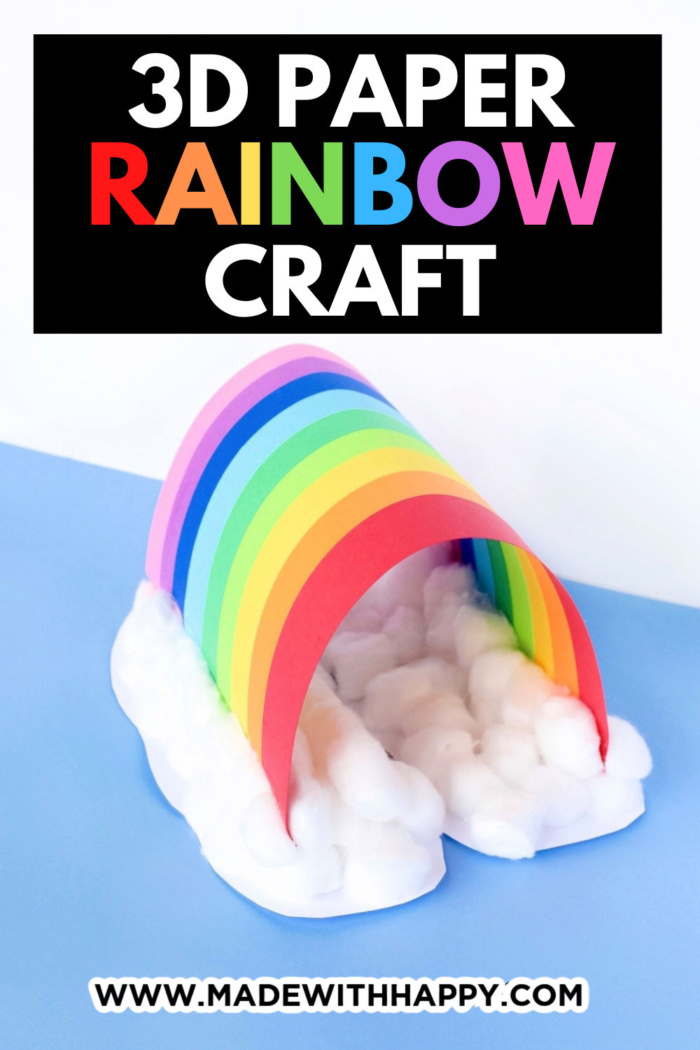 3D Paper Rainbow Craft for Kids
Who doesn't love rainbows?! They're so great for kids crafts, activities, educational resources, and more. I'm all about colorful crafts so this 3D rainbow is right up my alley. It works for kids of varying ages. Preschoolers can use it to practice color recognition and fine motor skills. Older kids will love making a cool craft and can use it to play with their toys!
We highlighted this Rainbow Craft along with some other fun kid's crafts in our March Crafts along with our 101+ Easy Craft Ideas for kids.
Materials Needed:
Construction paper or card stock
School Glue
Cotton Balls
Packing Tape (optional)
How to Make a 3D Paper Rainbow
Older kids can do this craft independently while younger kids will need more help. Something that helps with little ones is copying what others do. For example, pair an older child with a younger one. This way the younger child can copy the older one as they do the craft together. The same works to let your kids copy you. I like to make my own while my sons make theirs and I walk them through it.
If you're a teacher, try doing this with your class and breaking them up in small groups to work together. It makes it a fun team activity!
Here's how to make it:
Cut paper into 1" strips. I chose red, orange, yellow, green, 2 shades of green, 2 shades of blue, purple and pink.
Glue strips together to make one large rainbow rectangle.
Add generous amounts of glue to edges and fill with cotton balls on both sides front and back.
Cut cloud like shapes out of white paper.
Add glue and cotton balls to cloud shapes.
Carefully glue each opposite edge of the paper rainbow to the cloud shapes.
You can stop right here or add a piece of tape to connect the two clouds.
Admire your rainbow!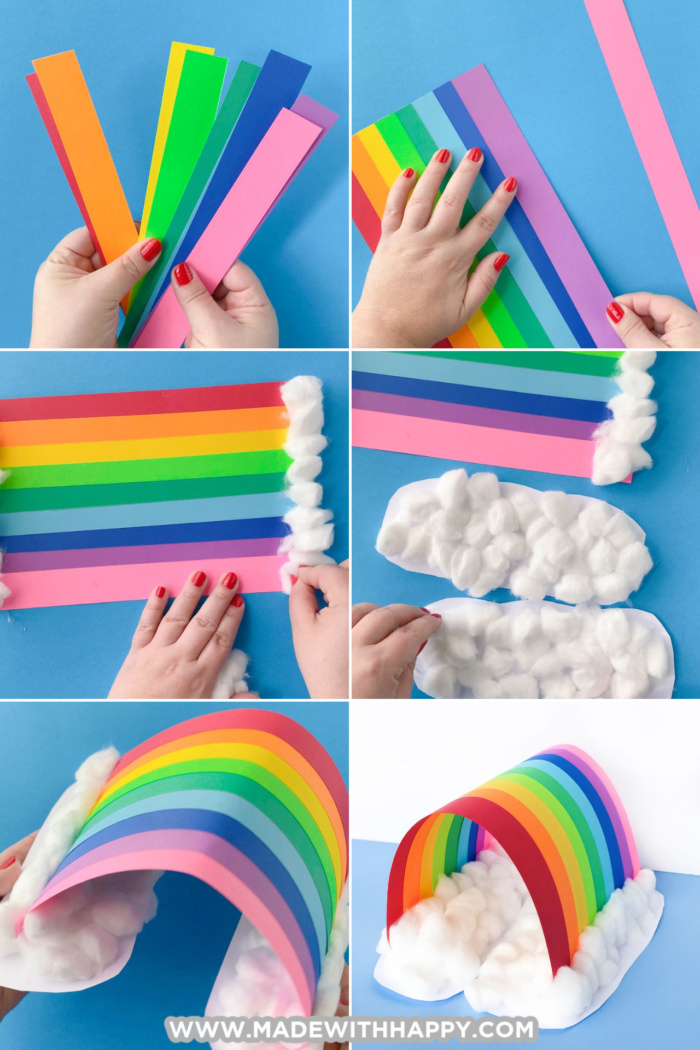 My sons have this craft in their bedroom as decoration! It's fun to look at and adds a whimsical touch.
Looking for more Rainbow fun for kids? Check out these posts:
CONNECT WITH MADE WITH HAPPY!
Be sure to follow me on social media, so you never miss a post!
Facebook | Twitter | Youtube | Pinterest | Instagram
Looking for crafts to keep your child busy? Sign up for my 5 Ridiculous HAPPY Activities in under 30 minutes for your kids delivered directly to your inbox!
Find and shop my favorite products in my Amazon storefront here!
3D RAINBOW
PIN IT TO YOUR DIY BOARD ON PINTEREST!
FOLLOW MADE WITH HAPPY ON PINTEREST FOR ALL THINGS HAPPY!