Today we're excited to give you a peek into our craft room. Whenever friends come over, they are surprised by this room and always ask why I've not shared. In all honesty mostly because its never completely clean. But I made an exception today and for 15 minutes it was all clean and ready for its close up.
One other piece to note is that we had a devestation on the way through. My camera caring strap holding thing caught up on the nob of the craft table and down it fell breaking my big lens. As I wipe up my devastation and tears, I will say that there is one picture that is still missing, my desk. I hope to get it this week with another lens, but am having a hard time getting it all in one picture. I promise to update with it shortly though. In the mean time the other parts of this room are pretty awesome, so here you go!

Let's start on this side of the room since we've shared wit you these two pieces before. First is the turquoise spray painted craft table with anthropology knobs. It is still one of my favorite pieces in the house!
Next is the slat wall. We've shared how we created the wall, and you can check out how we initially decorated it along with the upcycled thread holder DIY.
It of course has evolved over the years and now houses all the tape in all the land as well as scissors, glitter and paint brushes.
Next up is the Glue cabinet. Yes, my friends I have a glue cabinet. Actually it houses puffy paint too, but for the most part we have all kinds of glue in this little lady. Surprise, surprise I hadn't shared with you how we transformed this little gal. I have written it down and promise to write up what she looked like before and how easy it is to transform.
Next over to this beauty of a book shelf. A little story about this piece of furniture. Many moons ago when the hubs and I were wee little 20 somethings and bought our first condo, we were looking to fill it with furniture. My Aunt who is a designer and all around one of the coolest people I know, gave us a piece of advice that I think about to this day. She told me that when buying furniture, you can go out an buy "cheap furniture" for $100 that you're going to have to replace every few years because it is falling apart, or you can save and pay $400 for a good quality piece of furniture that you will have for as long as you want it. So rewind back to the little wee 20 year olds we were. Just starting out and did not really have a lot of cash to buy a ton of furniture. I knew I wanted a really great bookcase and so I hounded the consignment shops and unfinished furniture store until I found this beauty. After back and forth, saving and convincing the maker for a discount, I bought this and stained it myself. We've had it over 10 years and it looks just as beautiful as the day we got it. Okay, I'm sappy. 🙂
In any case, this is where I hold not only my books, but all my paper at the bottom, vinyl, paints, strings, pom poms, popsicle sticks and straws. You can never have too many straws right?
Next to the book shelf is this futon and seating area.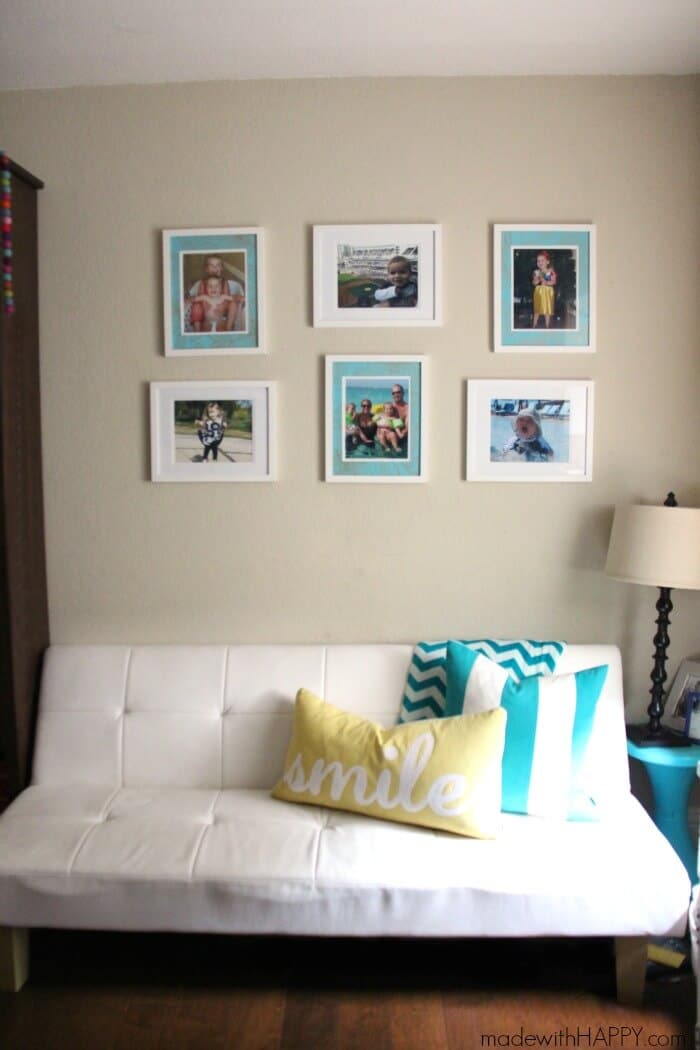 We love the clean lines and airiness of this space. I wish I could tell you that I sit here and think up the fun crafts, but really its mostly to put on shoes and play with the littles.
One of the fun parts of the family pictures that I love is the matting around half the pictures. This blue paper is actually the wallpaper that is behind my desk. I love how it ties in the two sides of the room.
The last piece of today is the gold striped piece of furniture that I've showed you previously. The lighting stinks trying to capture this space. You can see some better pictures of it here. But this is super utility space with my HP Printer. It houses lots of lose ends, like photo paper, balloons, and paper work.
Thank you so much to Angie from The Country Chic Cottage for organizing a Craft Room Tour. We are excited to take part. If you're looking for some other fun inspirational ideas, head over here and check them out.