Well HELLO SUMMER!  Oh man, I can't even express how excited we are for Summer.  Lazy mornings, the beach, and BBQs.  Three of my favorite things.
Who already has BBQ's planned?  Me too!  While my family LOVES to have and go to Summer get-togethers with friends, I often find myself scratching my head as to what to bring.  Until now.  I've come up with your new go-to favorite.
Pasta Salad Skewers
Okay, first off, pasta salad, SUMMER MUST HAVE.  Second , I'm kind of obsessed with anything on a stick, remember?  Lastly, by making it with the Ronzoni Garden Delights pasta, you're not only adding a serving of veggies with every 4oz of pasta (AWESOME), you're adding a ton of color to the appetizers which makes them look awesome and we all know I love color!
Here's how you make these delicious numbers
Ingredients:
1 box Ronzoni Garden Delight -Tricolor Penne Pasta – Which can be found at Walmart
1 package salami
1 package grape tomatoes
1 cup chopped bell peppers
1 small can black olives
1 container mini mozzarella balls (or cut larger mozzarella into small bite sizes)
Italian Dressing
Directions:
Prepare pasta according to directions and let cool.  Using bamboo skewer sticks, thread on each of the ingredients onto the stick.  Serve with bowl of Italian Dressing on the side or drizzled over the top.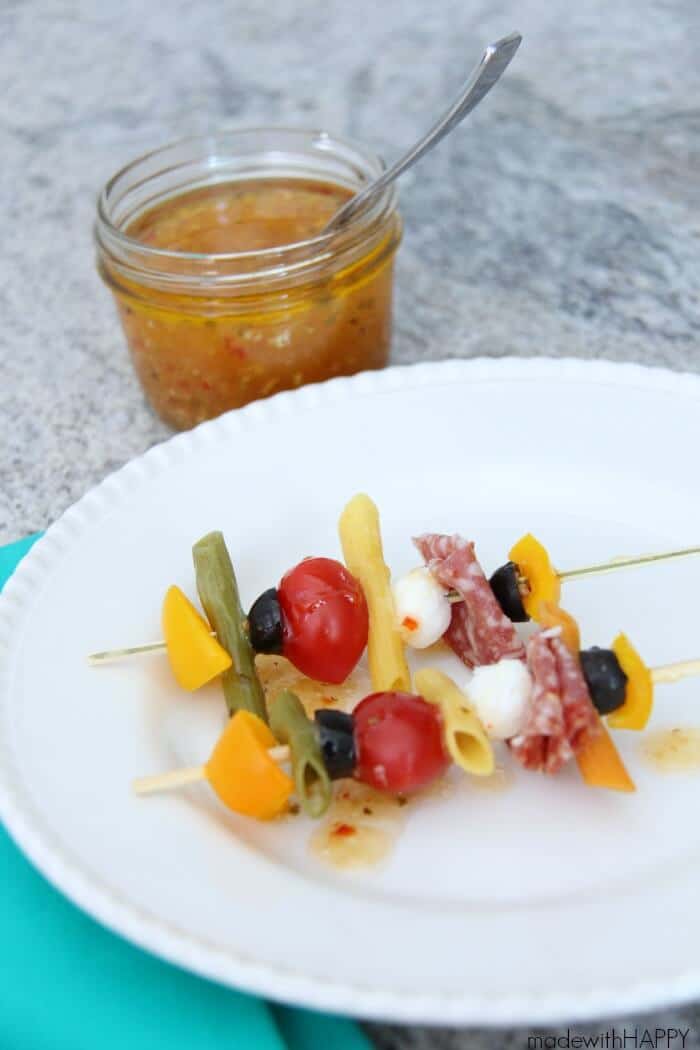 Line the skewers on a tray or even serve in a vase for an unexpected fun appetizer display. 

There are two ways you can now save on Ronzoni Garden Delights at your local Walmart.
$1.00 coupon off any two Garden Delight items in most newspapers on 6/28/15 (while supplies last)
$0.55 off in store coupon at Walmart starting 6/22/15. Offer expires 8/2/15 (while supplies last)
 Happy Summer BBQing!