5 reasons to go to Mickey's Not So Scary Halloween Party plus tips, details, and what you need to know to have a spooktacular time.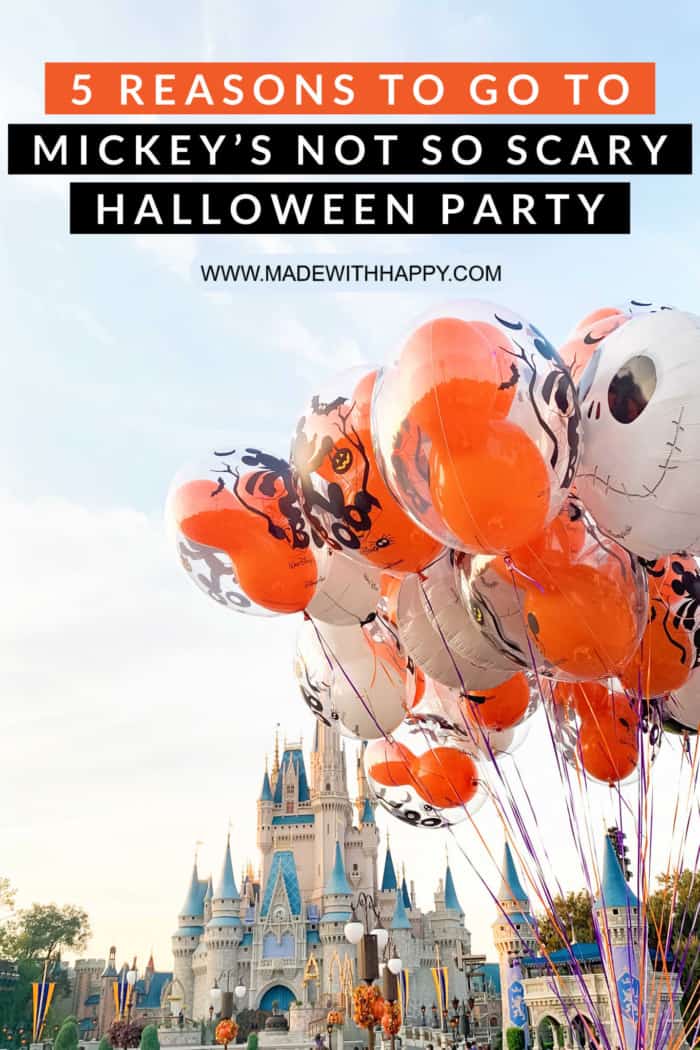 Mickey's Not So Scary Halloween Party is a special event on select nights at Walt Disney World. It's a family-friendly Halloween spooktacular guaranteed to be fun for all ages! My family and I just attended the party and I have so much to share! I'm talking tips, what to do, what to see, and even what not to do. Let's start things off with 5 reasons to go to Mickey's Not So Scary Halloween party.
Why You Should go to Mickey's Not So Scary Halloween Party
1 - Trick or Treating around Magic Kingdom - There's no better place to go trick or treating than Mickey's house! The whole family can get complimentary candy at designated spots around the park. You can also wear a costume!
2 - Characters Dressed Up for the Occasion - Meet and greet your favorite Disney characters dressed in special Halloween-themed outfits! My family loved this and we got some great photos!
3 - Special Entertainment - Disney's Not So Spooky Spectacular hosted by Jack Skellington, Boo-To-You Parade, and Hocus Pocus Villain Spelltacular are three main events to check out during the party.
4 - Lower Wait Times and Smaller Crowds - The Halloween Party is a hard ticket event on select nights which means only guests who have purchased the event ticket can attend. This results in much lower wait times for attractions and smaller crowds in general.
5 - It's FUN! - There's no better place to celebrate Halloween! With all the decor, treats, theming, and things to do, it's a fun experience and that's a big enough reason to go.
Tips for Attending Mickey's Not So Scary Halloween Party
Be prepared - Make a plan ahead of time and focus on the things you really want to do. The party runs from 7:00 PM to Midnight so there are only 5 hours to enjoy. That's not enough time to do it all! Pick your 5 biggest can't miss things on your list and go with those first.
Dress comfortably - Even though it's Fall, it's still basically Summer in Florida. Prepare for very hot temperatures and lots of humidity when choosing your costume or outfit. Also, don't forget comfortable walking shoes!
Have your ticket ready - Buy your ticket(s) in advance to save time! Also, download the My Disney Experience App in advance (if you don't have it already) and link your ticket(s) to your account. This way you don't need to worry about printing anything or visiting guest services. Then, you can use your magic band or card easily! You can also log in to your account on the Disney website and link your ticket(s) there.
Use glow sticks or lights - Certain parts of Magic Kingdom are very dark during the Halloween Party and it's hard to see when you're walking around. Consider using glow sticks or hanging lights to help with that. If you're using a stroller, decorating it with Halloween-themed lights or glow sticks is very popular and really helps too.
Use Disney Photo Pass - There are so many opportunities for special photos throughout the party and you can get everyone in the picture with Photo Pass. They even have some really cool and themed "magic" shots that are a must-do!
Get there early - The Halloween Party starts at 7:00 PM but your event tickets allow you entry into Magic Kingdom at 4:00 PM! I suggest getting there early to get some rides in and take advantage of the park. Keep in mind, that the party stuff doesn't start until 7:00 PM but it's always good to have more time.
Rest during the day - This is my biggest tip! Do not, I repeat, DO NOT attempt to do any other Disney park during the day of the Halloween party. We made this mistake and were so tired by 9:00 PM that we were barely hanging on. My kids were basically begging to leave and didn't care to finish partying. Since you only get a short time for this special event, it's best to rest during the day and then head to Magic Kingdom when it's party time.
Halloween Party 2019 Dates and Pricing
Mickey's Not So Scary Halloween Party takes place on select nights in August, September, and October.
Pricing for the Halloween Party depends on the date you choose.
There you have it! My 5 reasons to go to Mickey's Not So Scary Halloween Party plus tips and info. I hope this helps you plan your visit and have a spooktacular time!
Other Disney Fun You'll Love
CONNECT WITH MADE WITH HAPPY!
Be sure to follow me on social media, so you never miss a post!
Facebook | Twitter | Youtube | Pinterest | Instagram
Looking for crafts to keep your child busy? Sign up for my 5 Ridiculous HAPPY Activities in under 30 minutes for your kids delivered directly to your inbox!
Find and shop my favorite products in my Amazon storefront here!