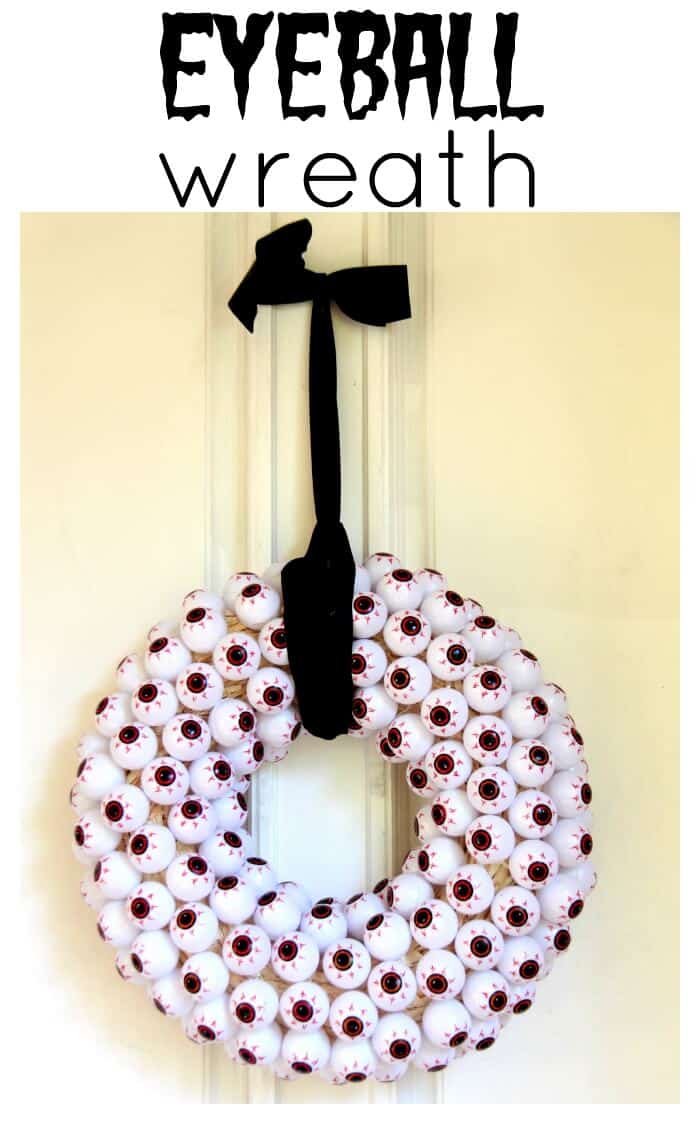 Have I mentioned how wreath crazy I've been lately? Well we are and we're having a so much fun at it. The littles (my assistants) and I were making our way through the Dollar Tree the other day and we came across a package of these fun ping pong eyeballs.
I turned to them and asked them if they think these would be fun on a wreath. Made with HAPPY Girl told me, "YEAH, except they are all going to be looking at us. " Then we all started giggling and I knew this was going to be a great wreath for our door. Fun, Easy, and Cheap… my favorite HAPPY kind of crafts!!! Here's how you make it:
Supplies:
Inexpensive Foam or Straw Wreath
Ping Pong Eyeballs
Hot Glue – Crafters best friend
Ribbon – I like a dark black or red to contrast with the white wreath.
Direction:
For this project, I recommend starting in the middle of the wreath and then continue gluing around the wreath to the outside. Reminder, you are only gluing on one side of the wreath.
Glue the eyeballs as close to each other as you can get them and if needed, add a dot of hot glue between eyeballs to help secure to the wreath. The other other tip to consider when gluing is that you want the eyes to face outward. So the eyes on the inside and outsides of the the wreath will be attached at the side so if you're looking at it straight on you see all the eyes.
Once you have all the eyeballs on, then a simple Lark's Head Knot or bow. I know, I just used a fancy knot term, look at me, but its the simple knot I used on the Patriotic Paracord Garland.
Then hang it and see the smiles as your friends and family come to your door for a visit. I've been coming up with all kinds of funny one liners like… Here's looking at your kid and I've got my eyes on you!
Happy Crafting my friends!!!