1. Closet Update from Wise Diy
Add frames and a coat of paint to some plain, boring doors and voila! Whole new look!
2. DIY Cake Stands from Getz Blogging
Make these for under $5 when you shop at garage sales!
3. Upcycled Drawer Plant Stand from Happy Together by Jess
Ever wonder what anyone could possibly need single drawers for? DING!
3. Tire Dog Bed from Portaldodog
Sorry, this site is in a foreign language but this would be a great idea for dogs who like to eat every bed you buy them!
4. Sliding Barn Door idea from The Brooklyn Home Company
You could easily find a barn door at a garage sale and make this slider door for your bathroom or any other room!
5. Stereo turned into Storage from City Farmhouse
Can you believe this used to be a stereo? And she found it at a garage sale for ONLY 10 BUCKS!!!
6. Upholstered Chair Makeover from Artsy Chicks Rule
Looks so fresh & new!
7. Roller Cart from Made with Happy
This cart was purchased for SEVEN DOLLARS!!
8. Pinstriped End Table from Liz Marie
LOVE this end table upcycle!
9. Cabinet to Kitchen Island from Blog Lovin'
OMG I love this one! You would never know this used to be something way more boring!
10. Vintage Scale Farmhouse Sign from Hometalk
Never would have thought of this, so unique!
11. Repurposed Horse Stall Door from Design Sponge
This one is a bit expensive, but it still looks cool!
12. Suitcase Side Table from Less-Than-Perfect Life of Bliss
I've seen this everywhere and it looks way harder than it was! So simple!
13. Custom Credenza with Overlays from Sarah M. Dorsey Designs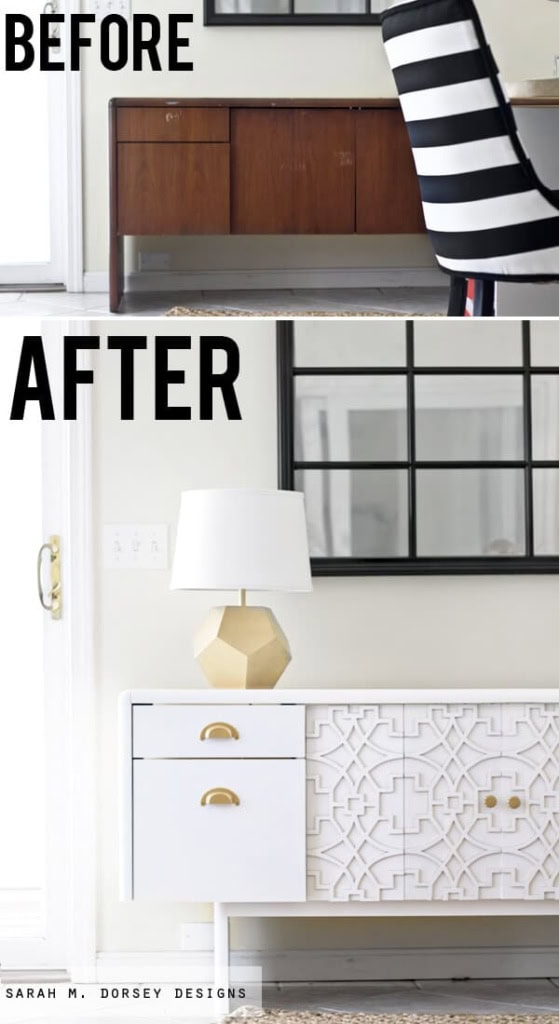 OMG this one stunned me! So sheek!
14. Easy DIY Chalkboard from Old Art from Bright Green Door
Super duper easy!!
16. Five Minute Farmhouse Footed Tray from Hunt & Host
So fun! Love this little touch of country in the kitchen!
17. DIY World Map with Lights from Hazel and Ruby
I have a weird obsession with maps and globes. And people are practically GIVING them away at garage sales!
18. Nightstands from a Desk from Sugar Bee Crafts
LOVE how customizable this one is. Took it from old and boring to new and updated real quick!
19. Upcycled Vintage Door to Beverage Bar from Finding Home Farms
Guys, this one is SO COOL! Love, love, love the rustic feel and would be great for homes that do a lot of entertaining!
20. Updated Thirfted Lamps from The Home I Create
Make cheap lamps look expensive with these tips & tricks!
HAPPY GARAGE SALING!!