Looking for pool warmers that you can make yourself. These DIY pool heaters are easy and inexpensive swimming pool heaters that only cost a few dollars.
We have had the craziest weather here in San Diego this spring and start to Summer. It has been rainy, drizzly, overcast and I can count on one hand the number of days we've had full sun. It is throwing our Summer fun off for sure. Especially since we do not own a pool heater. The pool water has been chilly and so we started looking at different swimming pool heater options. There are different pool warmer options that you can purchase, but they are very expensive. After taking a look at a few different ones, I knew we could make our own for just a few dollars.
Benefits of making your own pool heater
Cost

While shopping the internet, I found that the cheapest ones were just under a hundred dollars each. Hard to justify that cost when you would need 3-9 depending on your pool size

Reliability

Anyone that has a pool, knows that pool supplies, pool toys, and all other pool accessories aren't the most reliable. Knowing that you're making it for a few dollars verses paying a gazillions eases the mind about the reliability
To Make These DIY Pool Heaters, You'll Need: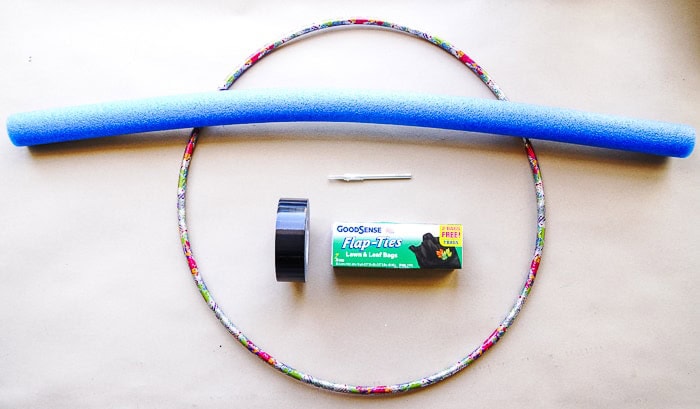 That is what I love about this project. I bought all the supplies at my local dollar store. Here is a list of the supplies needed for this project.
Hula Hoop
Pool Noodle
Duct-Tape
Lawn Garbage bags
Scissors or Xacto Knife
Here is a quick video showing how can build my own solar pool heater?
Place the hula hoop inside the garden bag
Gather the excess bag around the outside of the hula hoop
Using the duct tape, tape the excess bag around the hula hoop
Cut your pool noodle in half, then in half again.
Cut along the side of the noodle pieces into the middle giving a slit for the noodle to fit around the hula hoop.
Make as many solar panels as you can and get those babies into your pool. You will see the water temperature go up and it will be like your secrete heating system and water heater floating around your pool.
Other DIY Backyard Projects
If you you're looking to spruce up your backyard and pool with different projects. Here are a few outdoor projects for you.
DIY POOL HEATERS
PIN IT TO YOUR DIY BOARD ON PINTEREST!
FOLLOW MADEWITHHAPPY ON PINTEREST FOR ALL THINGS HAPPY