AHHH SUMMER!  I LOVE SUMMER!  I love everything about Summer…wait,  with the exception of the humidity and frizzy hair 🙂
We've been spending most our days outside as I'm hoping all you are.  The beach, the park, and most definitely our backyard.  Swimming, reading, coloring, singing, dancing, climbing, and exploring.   All more fun in the sun (in my opinion) 🙂
In any case, recently we were hanging out in the treehouse when Made with HAPPY Girl asked if we could hang up paper on the walls of the treehouse for her to color.  Which of course then got my juices flowing in setting up an area for her and her brother to color or paint or whatever they want in the backyard that doesn't involve hanging paper.  That's when I thought about a fun
Outdoor Easel
This was a super fun project that doesn't take a whole lot of time and the kids are having an absolute blast with!  Here's how to do it!
Supplies:
 30″ x 36″ Piece of Plexiglass
8.5 feet of 1 x 3 lumber
2.5 feet of 1 x 4 lumber
11.5 feet of 1/2 inch quarter round molding
4 large Command™ Strips
2 mini Command™ Strips
Small finishing nails
1 inch outdoor nails
spacer (optional)
Saw
Hammer
Drill
Screwdriver
The HAPPY news… You now don't have to search all around looking for your command strips.  There is a new crafting aisle at your local Walmart where you can find all the Command™ 3M Products as well as Scotch® Brand.  All in one place… makes me HAPPY!
Directions:
We first started by measuring and cutting all our wood to size.  We went for straight cuts on this project as to keep it simple.  We used the 1 x 3 inch wood for the top and two sides and then used the larger 1 x 4 piece of wood for the bottom, which gave the kids a little more room to set down their pens or paint brush.
We started by attaching the bottom to the sides.  We lined both sides up with the back of the bottom piece of wood.  Do not attach top piece.
Next we attached the quarter round molding to the inside of the frame using small finishing nails.  We used the spacer as a guide to make sure there was enough space for the Plexiglas.  The trickiest part of the whole project is to make sure to leave room for the rounds on the sides once the frame is put together.  We did attempted to cut the rounds at a 45 degree angel to make the  frame pretty inside, but they came out kind of wonky, so plan B, straight cut.
We will not be attaching the top with screws,  rather the mini command strips.  This would allow for us to remove the top and slide the Plexiglas out and hose it off if needed.  
Lastly, attach the large Command™ Strips to the back of the frame and attach frame to the fence.  Make sure the frame is in place before adding the Plexiglas.  We love the Command™ Brand strips because they hold on strongly and hang without damage to the fence.  I puffy heart that!
Viola!  You have the BESTEST SUMMER EVER outdoor easel.  For loads of fun with this project and other SUPER AMAZING projects, click HERE!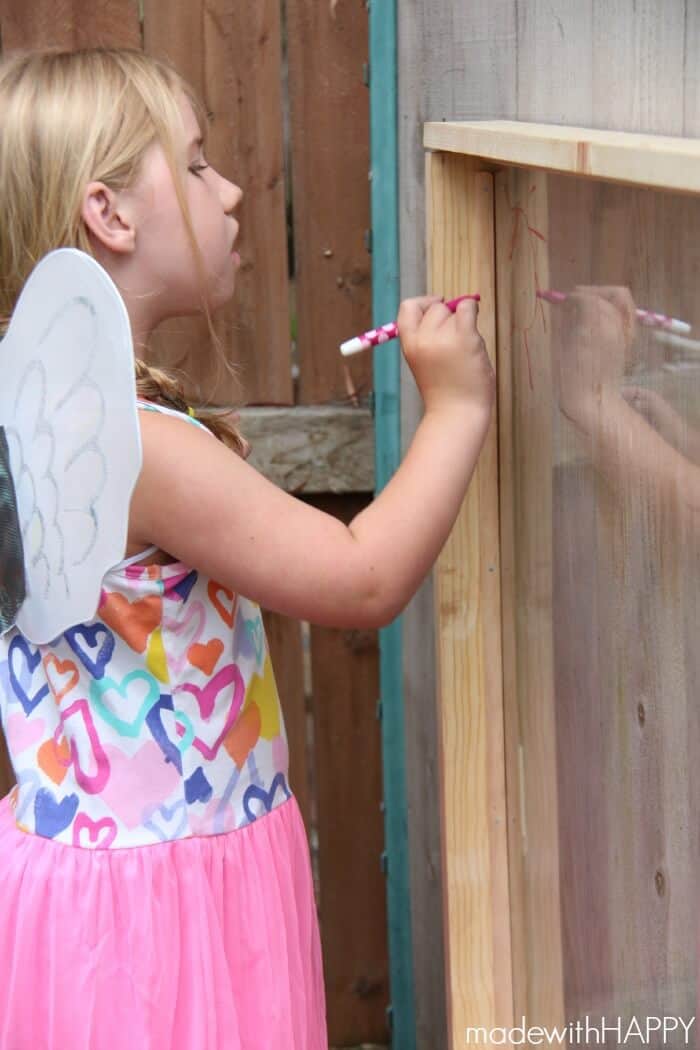 Pin this post for when you're ready to make your own!