Looking for a fun DIY Treehouse Playhouse for your backyard? You're in luck! We built a cool treehouse for kids and are giving you step by step instructions.
We are so excited for our latest project. Our Made with HAPPY TREEHOUSE! MWH Girl has been talking about a treehouse playhouses and asking us for one for months and months, and so we finally decided it was time. Making a DIY Backyard Playhouse was next up on the list!
Can I build a Treehouse for Kids in my backyard?
After a full inventory of the trees and locations around our yard, we came to the conclusion that an actual "treehouse", meaning a house inside a tree was not going to be possible. All our large trees were located on a hill and trying to design from there, would take a lot more planning and engineering than I have the capacity to do at this time.
When planning a space in your backyard for our kids backyard treehouse, there are a few things you should consider.
Do you have a cleared space for a playhouse?
Is the ground even where you are looking to have the treehouse?
How tall can you make the treehouse due to neighbors, age of children, space?
We unfortunately lost a great pine tree due to disease in a corner of our side yard a few years ago. Since it was cut down, that part of the yard had been sort of the dumping area and collect all of projects along with a small play area for the kids. We decided over the stump would be a perfect place for our DIY Backyard Playhouse that is a makeshift treehouse!
Organizing the space for Kids Backyard Treehouse
Once we decided on the location to make our "treehouse playhouse", we quickly realized a number of other things needed to happen to make this area what we were envisioning including:
Clearing out all the junk
Trimming the neighbor's pepper tree that drops all kinds of leaves on our yard
Fix broken sprinklers
Lay grass
Build Treehouse
These are most likely not going to happen in one day, but we are up for the challenge.
After some sweat and some serious man power we did it and tada… we now have our brand new Made with HAPPY Treehouse.
DIY Backyard Playhouse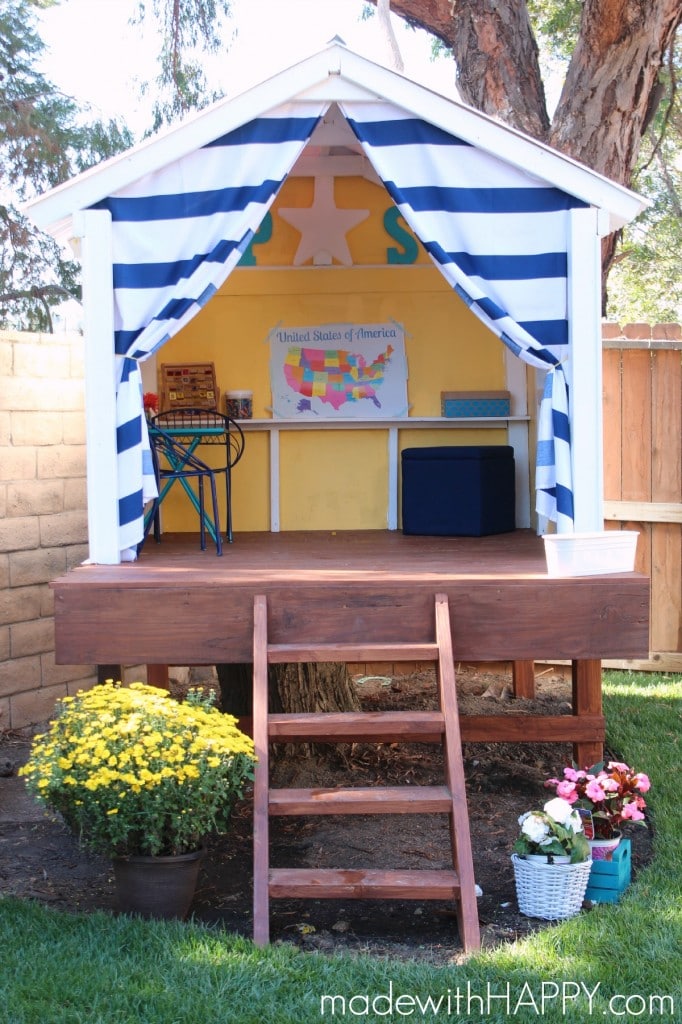 We added a super cute table and chairs that even Mom and Dad can have fun hanging out in the kids outdoor treehouse. I recommend metal chairs that are sturdier than kids plastic chairs.
We will get into our reasoning for each of our design decisions later, but we put in one window on the side of the treehouse. You could certainly add more windows to your tree house.
Made with Happy Playhouse
The kids are so pumped about the new backyard treehouse, that they have been out there every day since we have completed it. They have been dancing and and imaginative play, and generally having the best time in their own space!
We of course documented our steps along the way to creating this DIY Backyard Playhouse, aka: Our Backyard Happy Place, but have decided that we will break it down into four different posts for those looking to recreate something similar in your backyard.
How to Make a Treehouse
We broke down the building of the diy kids treehouse into four different sections.
PLEASE NOTE: I stated this before and will continue to note it throughout the build. We are not professional carpenters or structural engineers. We are simply showing you how we built this for our kids.
Cost for the HAPPY Treehouse for kids
I can tell you that we were very cost conscience on this DIY Backyard Playhouse. We of course wanted something that was built sound and sturdy, but also did not want to spend more than it would cost to buy pre-made.
I'm happy to report we did just that and we were able to make this for approximately $300. I do not have the actual breakdown of cost per supplies, but note where we were able to save as we make each section of the build.
We're really proud of this project and are would love to know what you think? We are also happy to answer any questions you have along the way, so just ask away.
Other Backyard DIY Projects You Might Enjoy
CONNECT WITH MADE WITH HAPPY!
Be sure to follow me on social media, so you never miss a post!
Facebook | Twitter | Youtube
Pinterest | Instagram
Looking for crafts to keep your child busy? Sign up for my 5 Ridiculous HAPPY Activities in under 30 minutes for your kids delivered direct to your inbox!
DIY Backyard Playhouse
PIN IT TO YOUR CRAFT BOARD ON PINTEREST!
FOLLOW MADEWITHHAPPY ON PINTEREST FOR ALL THINGS HAPPY!