We are so excited for our latest project. Our made with HAPPY TREEHOUSE! MWH Girl has been talking about a treehouse playhouses and asking us for one for months and months, and so we finally decided it was time. Making a DIY Backyard Playhouse was next up on the list!
After a full inventory of the trees and locations around our yard, we came to the conclusion that an actual "treehouse", meaning a house inside a tree wasn't going to be possible. All our large trees were located on a hill and trying to design from there, would have sent me over the edge, so we decided on fun alternative.
We unfortunately lost a great pine due to disease in a corner of our side yard a few years ago. Since it was cut down, that part of the yard had been sort of the dumping area and collect all of projects along with a small play area for the kids. We decided over the stump would be a perfect place for our DIY Backyard Playhouse that is a makeshift treehouse!
DIY Backyard Playhouse
Once we decided on the location to make our "treehouse", we quickly realized a number of other things needed to happen to make this area what we were envisioning including:
Clearing out all the junk
Trimming the neighbor's pepper tree that drops all kinds of leaves on our yard
Fix broken sprinklers
Lay grass
Build Treehouse
Yeah, a probably not going to happen in one day, but we're up for the challenge. After some sweat and some serious man power we did it and tada… we now have our brand new Made with HAPPY Treehouse.
There are even some spot for adults to hang out in the DIY Backyard Playhouse!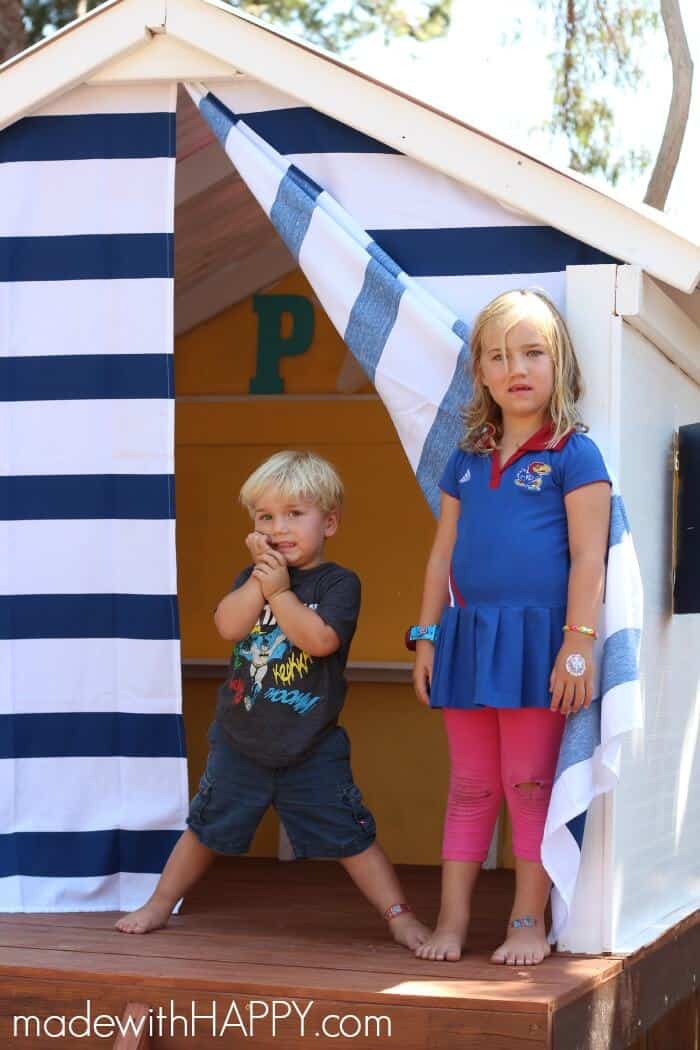 The kids are so pumped about the new treehouse, that I would say that every night since completion, they have been out there, dancing, playing and just turning it into their own!
We of course documented our steps along the way to creating this DIY Backyard Playhouse, aka: Our Backyard Happy Place, but have decided that we will break it down into four different posts for those looking to recreate something similar in your backyard. In the next couple of days we will share how we made the
I can tell you that we were very cost conscience on this DIY Backyard Playhouse. We of course wanted something that was built sound and sturdy, but also didn't want to spend more than it would cost to buy pre-made. I'm happy to report we did just that and we were able to make this for approximately $300.
We're really proud of this project and are would love to know what you think? We are also happy to answer any questions you have along the way, so just ask away.
Cheers!