For those of you that followed me on social media (instagram, snapchat, or Facebook) might have seen that I was up in Sacramento for the Music Festival and to get my charcoal grill on!
It was such a fun day, and for those in the area, I highly recommend you and family head down there next year.
The festival was located in Old Town Sacramento.
Old Town Sacramento is about eight blocks of historic building lined with wooden walkways. There are restaurants and store located right on the river. Definitely gives you the feeling like you're walking back in time.
The Music Festival was all day event starting with a parade full fo Jazz and memorial day celebrators in the community.
My favorite part of the festivities was the Duraflame Charcoal tent that was in the center of town showcasing the talents of the charcoal grill.
The team that was there was fabulous.
I learned about the awesomeness that is duraflame instant light charcoal and how the hexagon shape maximizes the surface area. Greater surface area means longer cooking time! The hole in the middle also increases airflow which means hotter temperature which means it brings the temperature up faster to the searing temperature that help seal in those juices. OH THOSE JUICES!!!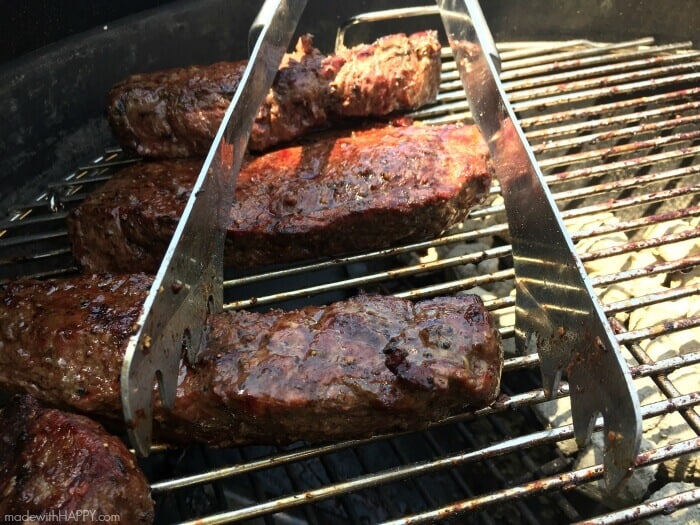 Did I mention the juices??? This is seriously my new favorite charcoal. We cooked steaks, we ate steaks, we handed them out to people walking along the streets. They were so good. I am seriously still dreaming about them a few days later! Oh my grilling heart is fired up to bring you a really fun and HAPPY grilling series this Summer. Watch out for that hitting your HAPPY inbox soon!
All in all the festival, the grilling and the day was absolutely magical. I highly recommend hitting up the festival if you're in the Sacramento area next year and for the love of all that is grilling, go and pick up a bag of Duraflame Instant Lighting Charcoal and get your grill going.
Here are some of our current grill favorites recipes.
Other HAPPY Events You Might Enjoy
MACY'S CULINARY COUNCIL – STEPHANIE IZARD
MACY'S CULINARY COUNCIL CHEF MARCUS SAMUELSSON
Other Southern California Destinations you might enjoy!
Some of our favorite all time travels