Celebrate the love this Valentine's Day with over twenty-one different Valentine's Day Drinks for adults. Some seriously delcious cocktails.
These Valentines Day Drinks are full of love potions and delicious drinks. Looking to turn up the romantic cocktail heat with seriously fun cocktails, then look no further.
Making February 14th a special occasion with a fun Valentine's Day cocktail is always a fun idea. With just a few ingredients, you can make any of these delicious cocktails to enjoy with your friend or loved one.
Valentine's Day Cocktails
Whether you are making a fun cocktail for date nights or in celebration of the day of love, I highly recommend having a fun signature drink to make that night more special. A Valentine's Day Cocktail recipe, rather than just wine and beer makes any meal that much more special.
With just a few extra ingredients (orange liqueur, triple sec, simple syrup, sweet vermouth, ginge ale, and more) You can make a ton of different cocktails. Here are some of the fun ones.
This beautiful cocktail is just the color of Valentine's day with its fun red color. Perfect Valentines pairing
There is nothing more romantic than a bubbly cocktail. This raspberry prosecco cocktail is all kinds of delicious.
Turn up this heat this Valentine's day with this delicious drink.
While this fun cocktail might not scream red or pink drink, this chocolate mojito cocktail is an incredible Valentine's Day cocktail with a hint of lime juice and club soda.
This is a great way to turn a champagne cocktail into a yummy Valentine's occasion.
One of my favorite cocktails with a frothy addition to the cocktail shaker.
A fun twist on a traditional mule recipe. This is refreshing and delicious.
Bloody Orange Champagne Cocktail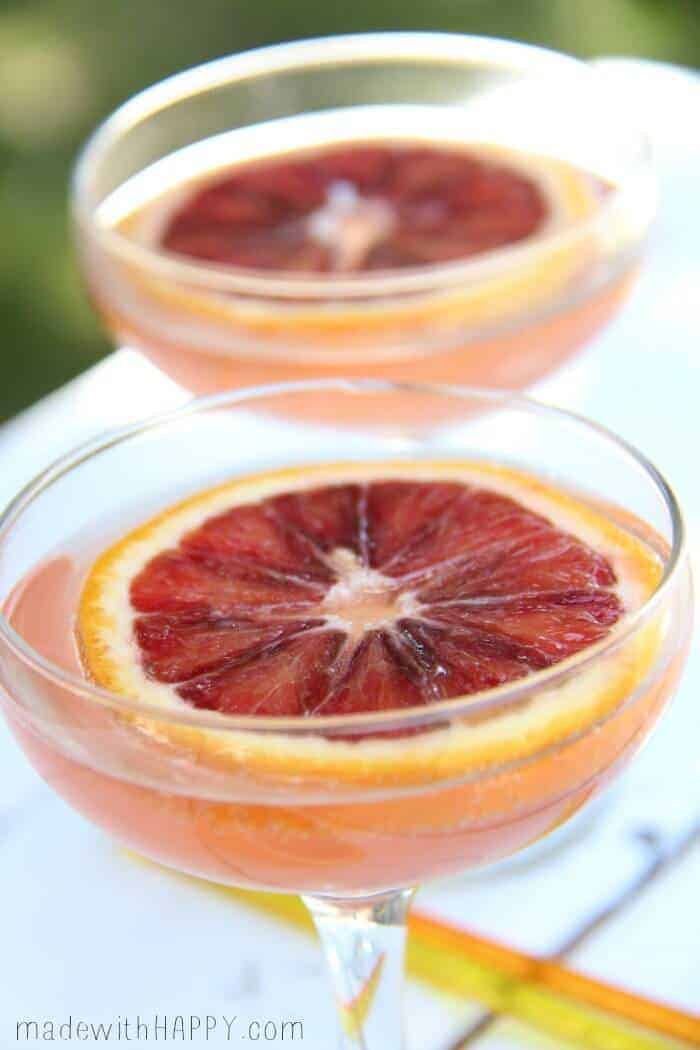 Whether you serve it in a champagne flute or champagne coupe, this delicious blood orange cocktail is all kinds of delicious. The added deliciousness of blood orange juice makes a fun drink.
This Valentine's Day drink screams rich and creamy and all kinds of chocolate scrumptious.
Another red hot cocktail for the red hot holiday.
This incredible cocktail is the perfect balance of lemon lime soda and fruity delight.
Talk about fruit-astic, these berry shots are all kinds of fun. It's fruit juice goodness in one good cocktail.
These sweetheart cocktails are great to serve to your sweetheart.
This pink drink is giving us all kinds of Valentine's fun. This is delicious and colorful.
These creamy mixed drinks are all that is a perfect festive drink.
Cupid's arrow has nothing on this simple ingredients ice cream cocktail.
Warm up your sweethearts insides with this delicious pink lady hot chocolate.
If you are looking for a more tart Valentines Day cocktail, then this is the one for you.
This shot is sure to pack a punch or bite.
Creamy and chocolatey delicious with some chocolate shavings.
This cocktail is sure to warm up your insides with some more than cupid's arrow.
This is like a dessert in a martini glass.
We heart this heart loving cocktail with all our hearts.
You had us at Champagne and Margaritas.
This sweet martini is great for Galentines or for those that love a delicious martini.
This cherry sake cocktail is all kinds of fun this Valentine's day.
ENJOY!!
Other Drinks You'll Enjoy
CONNECT WITH MADE WITH HAPPY!
Be sure to follow me on social media, so you never miss a post!
Facebook | Twitter | Youtube | Pinterest | Instagram
Looking for crafts to keep your child busy? Sign up for my 5 Ridiculous HAPPY Activities in under 30 minutes for your kids delivered directly to your inbox!
Find and shop my favorite products in my Amazon storefront here!
VALENTINE'S DAY DRINKS
PIN IT TO YOUR DIY BOARD ON PINTEREST!
FOLLOW MADE WITH HAPPY ON PINTEREST FOR ALL THINGS HAPPY!